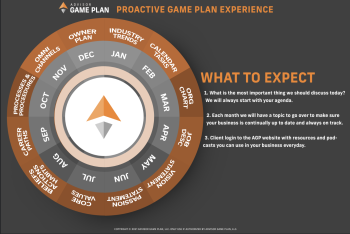 We believe every business should pay close attention to their client experience.  At Advisor Game Plan, we want to practice what we preach.  Here is our long-term client service model typically implemented fully after 12mo's of working together.  This is the sustainable model as to why clients desire our services and a long-term relationship with us year after year.
Advisor Game Plan clients start with our Momentum Builder 12-week timeframe (separate resource you can find on our Resource page), then transition to monthly coaching after our momentum relationship is built.  During this monthly coaching timeframe, we will transition each client on their appropriate timing to a Proactive Game Plan Experience.  To be a Thriving Leader, you will need to sustainably stay in proactive mode in each of these components of your business.
WHAT TO EXPECT:
What is the most important thing we should discuss today at our 1-on-1?  We will always start with your agenda each session.
Each month we will have a topic to go over to make sure your business is continually up to date and always on track.
Client login to the advisorgameplan.com website with resources and podcasts you can use in your business on-demand.